The importance of support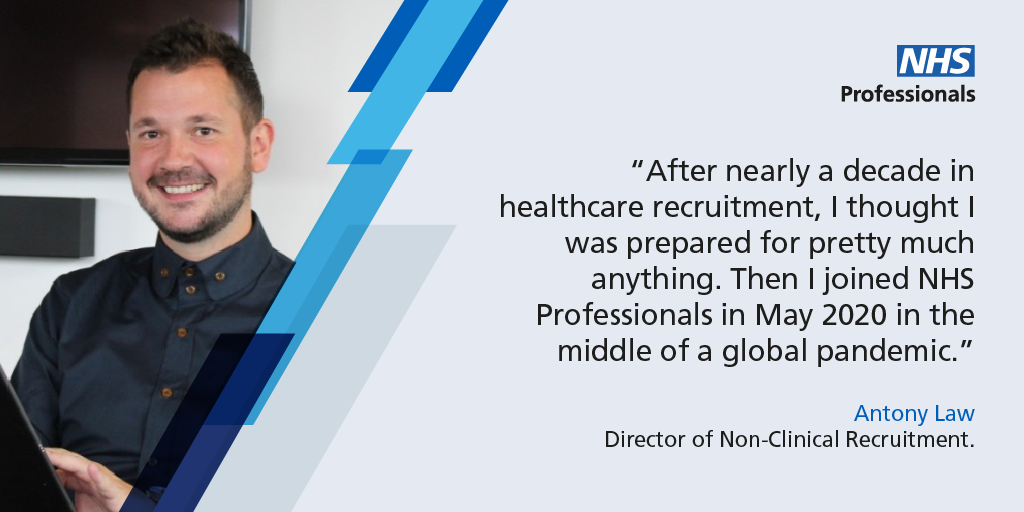 The importance of support
Antony Law, Director of Non-Clinical Recruitment
After nearly a decade in healthcare recruitment, I thought I was prepared for pretty much anything. Then I joined NHS Professionals in May 2020 in the middle of a global pandemic. Since that point, it has been a rollercoaster of a year, with demand for non-clinical flexible workers fluctuating enormously. I am incredibly proud of how my team has responded to this uncertainty and change, and how we have maintained quality through periods of high demand, working hard to consistently support our partner NHS Trusts and Bank members. It has been hugely unpredictable, but what has really stood out for me is the importance of delivering high-quality support to maintain exceptional patient care.
Reduced demand
Perhaps contrary to the common narrative of a stretched NHS workforce, demand for non-clinical staff actually dropped in the early months of the pandemic. Only people that absolutely needed to be in a hospital were allowed on site. So, unless you were working on a COVID ward or in an ICU, things could be unusually quiet as a non-clinical professional. Equally, the huge demand for clinical staff meant that some of my non-clinical recruitment team stepped forward to support our frontline services.
This all changed again in June and July, as COVID related fatalities reduced following the national lockdown. In response, we needed to mobilise our non-clinical recruitment teams as day to day demand started to increase. And the increase was fast. The need for COVID related non-clinical roles was huge, from porters and cleaners to the swabbers and the ward runners needed to take swabs to the laboratories, it really was all hands-on deck.
All of these roles are vital, with an even greater focus on maintaining cleanliness at a time when infection control is of utmost importance. In addition, to relieve the stress that some clinicians experienced in the first peak our trained non-clinical teams looked to relieve nurses and doctors of some patient care and the administrative duties that need to be completed on site.
Peak demand
To put this in context, from June 2020 placement requests received from our NHS Trusts have increased by 50%. In November alone we delivered over 400,000 hours of non-clinical support to the NHS. This is the highest demand recorded for our Bank members.
We are working incredibly hard to deliver the non-clinical support that the NHS needs, at speed. We know that a longer time to hire increases the strain on the NHS, that's why we are aiming to minimise the time between receiving a placement request and placing a Bank member into an NHS Trust.
Quality and speed
We have staffed up considerably, recruiting Placement Officers across NHS Professionals to support and improve the recruitment process, for clinical and non-clinical roles. This additional resource means we can support our Bank members through the recruitment process and beyond, delivering quality placements into our Trusts.
Our Bank members need quick and easy communication, which is why we introduced web chat and online screening calls. This allowed us to build a rapport from day one, despite lockdowns and social distancing, which has increased our ability to interview workers and provide our Bank members with placements. Under the leadership of our Chief Nurse, Juliette Cosgrove, we are constantly improving clinical governance, compliance and onboarding, including vital elements such as occupational health checks.
We are also making improvements to our mandatory training, as well as the additional training we offer our Bank members. Equipping our members to do their job to the highest possible standards and supporting their personal and professional development is essential. At the same time, improvements to the training we provide increases the quality of those placed in NHS Trusts, ultimately enhancing patient safety and care.
Increased support
Applying for a new job is nerve wracking at the best of times. It's even more stressful in the middle of a pandemic. We have a dedicated team in our North and South Hubs as well as every one of our partner NHS Trusts to guide candidates through the application and compliance process. This involves everything from interview advice on what to wear, to how to prepare for an online interview. It's even as simple as reminding workers to bring along hand sanitisers and a face mask to our face to face interviews. When a candidate is successful, our placements officers work to ensure a smooth handover to the compliance team.
Our relationships with NHS Trusts have strengthened through this challenging year. We have supported our Trusts with increased and consistent contact, switching to Microsoft Teams to maintain face to face contact – even if it is online. We're also encouraging our colleagues and clients to have 'walk and talk' meetings where possible. To get outside in the fresh air and get some exercise while catching up. By looking after our own team wellbeing, we will be in the best possible place to look after our partner Trusts and members.
Full circle service
The relationship with our Bank members is ongoing and constantly developing. It starts from the moment we receive an application, through to finding the right placements and supporting ongoing development. All of our members are a part of the NHSP community. Whether they are a project manager, porter, cleaner, doctor or nurse, whether they're on a long-term placement or working flexibly.
As we come in to a new year, I want to acknowledge my team and all of our Bank members, who have worked so hard to support our partner Trusts. We look forward to partnering with more NHS Trusts to recruit essential workers to the NHS, for 2021 and beyond.