The importance of belonging for flexible workers in healthcare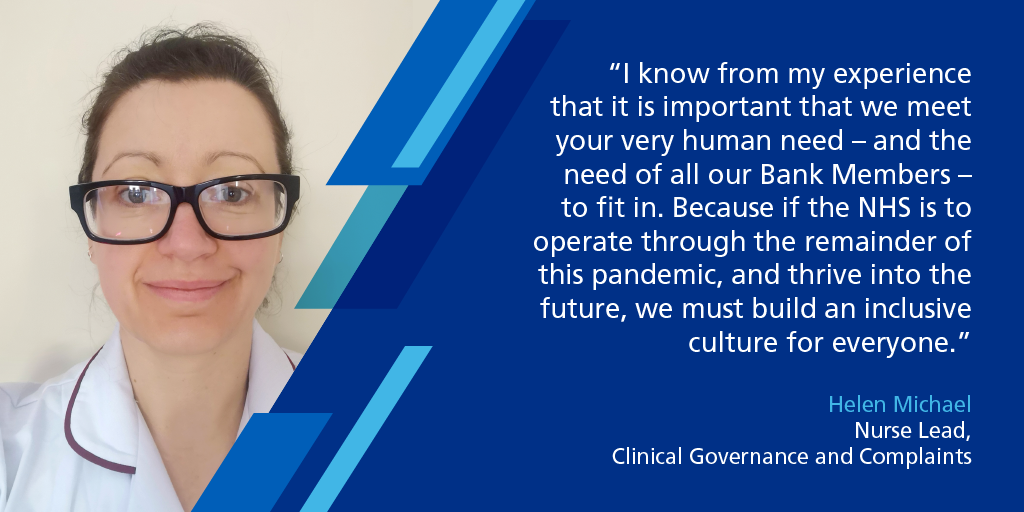 Author: Helen Michael
I have been a registered nurse since 2009, with a wide variety of experience working in sexual health and medical research, as well as at the CQC and before that, at the Environment Agency. Now, in my clinical governance role at NHS Professionals, I largely deal with the business of maintaining clinical standards. When things go wrong, which we know they do, it's my job to manage the process. Finding out not just what happened but, importantly, why it happened – and ensure it doesn't happen again.
A highly important aspect of my role is being there for our Bank Members. I know first-hand what can happen if we don't "foster a culture of inclusion and belonging" as the NHS People Plan tasks us all to do. And it's striking how many of the issues that come across my desk boil down to an absence of belonging.
Step back onto the frontline
Rewind to March 2020 and the beginning of the Covid-19 pandemic. The team here at NHS Professionals launched a campaign encouraging individuals to Stand up, Step forward, Save lives. Going to work as a nurse on the wards was not an option for me, as I've never worked as a nurse in the acute setting before. So, I volunteered to work shifts as a Care Support Worker on the Covid ward at Barnsley Hospital. Thankfully, a lot of what I knew came flooding back.
What I had forgotten, however, is how a 12-hour shift feels when you are constantly on your feet. At the end of the day the soles of my feet were vibrating. My back was sore from supporting patients to reposition, and I was hot and uncomfortable from wearing a mask and a plastic apron during a heatwave.
My respect for Care Support Workers (CSW) was reinforced by this experience. You are the eyes and ears of the ward. You keep an eye on the important things as you monitor what patients eat and drink, you check their pressure areas, and provide support and comfort. As well as ensuring a safe environment. Thank you!
Positive progress
I was also incredibly impressed by some of the changes that have been introduced over the last decade. The vigilance I saw around skin checks to prevent pressure sores and potential infection was really positive. It seems like such a simple thing, but getting it right has an enormous impact – on individual patients and the system as a whole.
Equally, I had forgotten how amazing it is to build a rapport with patients. No matter how busy I was, I always found time to chat and bond with older patients who were feeling scared and vulnerable. It was harder through the PPE, but still very rewarding.
I was also lucky to be working on a friendly and welcoming ward. After the initial awkwardness of having me, a Band 7 former CQC inspector, foisted on them as a Care Support Worker, the team just cracked on with it and were amazing to work with.
A sense of belonging
However, we understand that some Bank Members can feel outside of the team at times, and potentially less secure in your role than substantive colleagues. We are working to ensure this becomes a rare exception in your experience.
We're working with Trust teams to make the changes needed, to build a new understanding of Bank Members and the important contribution you make. We are also looking at improving processes, so you get the training and support you need to feel confident in any role. And to ensure that you feel part of the team at all times.
The NHS can't function without Bank Members. The pandemic has highlighted even further the importance of a workforce that is able to flex up and down with demand. And I have seen for myself how our Bank Members are a key part of that essential workforce.
Listening and learning
The team here at NHSP are working hard to provide the learning and development opportunities, and the compliance processes, needed to support this. We are also conducting research into the experiences of our Bank Members to find out where change is needed.
I know from my experience that it is important that we meet your very human need – and the need of all our Bank Members – to fit in. Because if the NHS is to operate through the remainder of this pandemic, and thrive into the future, we must build an inclusive culture for everyone.
Useful Resources