Right doctors, right job, right time
James Orr, Managing Director, Doctors Direct & AHP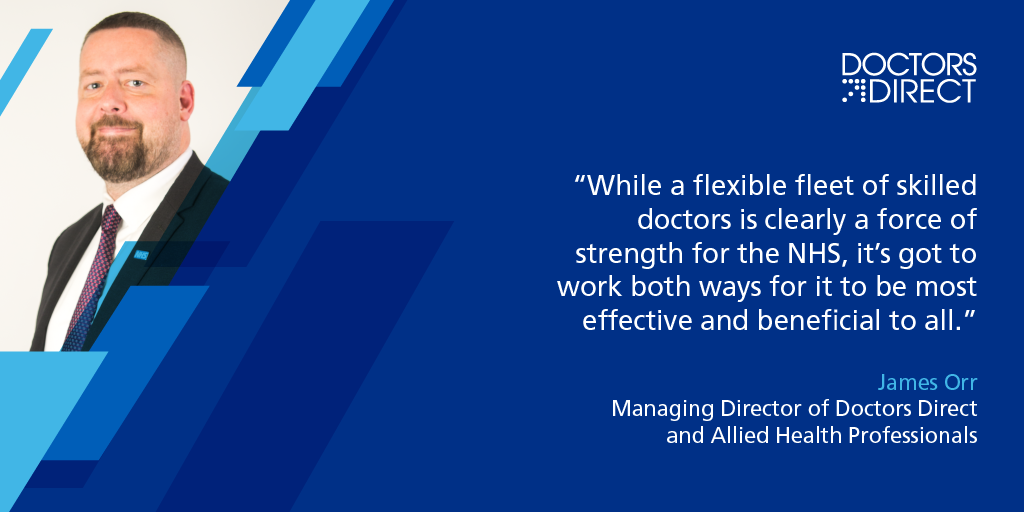 Covid-19 has firmly put the NHS to the test on its ability to flex and adapt in a crisis. Health professionals have gone above and beyond to save lives and keep patients safe – a commitment that has been recognised by the whole nation. This pandemic has necessitated a very rapid response from the health service – one that's been, to a large degree, powered by a flexible workforce of locum doctors stepping up with a timely, diverse mix of professional expertise.
Flexible workers are a necessity
The NHS People Plan 2020/2021 has reported that going forward it is vital that the right doctors for the right roles within any timeframe can be quickly and effectively sourced. Not only that, but priorities need to focus on developing an integrated workforce that is highly skilled and can work together differently to deliver excellent patient care.
There has already been a tragic loss of those on the frontline of patient care. The Office for National Statistics reported that more than 500 health and social care staff lost their lives to Covid-19 by the end of May 2020. Supplemented with findings from last year's NHS Staff Survey, which showed that sickness and absence in the NHS was twice that than of the private sector, we had enormous vacancy rates (9,000 doctors) and high levels of dissatisfaction at work, with 35% of GPs intending to quit.
We reflect on what has been a difficult year to better understand how to equip you for the future, as locum doctors are a necessity to support the NHS and protect patients through this winter and beyond.
It's got to work both ways
While a flexible fleet of skilled doctors is clearly a force of strength for the NHS, it's got to work both ways for it to be most effective and beneficial to all. NHS Trusts need doctors to be easily accessible and available with the right skills. Locum doctors need to fit shifts around their lifestyle and other responsibilities. Plus knowing that their knowledge and expertise will be properly deployed, whether they work in an acute or psychiatric setting.
Gearing up for rapid response
This year has put us all to the test especially when it comes to the speed of response. A case in point was the opening of NHS Nightingale Hospital North West - from convention centre to critical care unit in just two weeks. Doctors were recruited who were qualified for the task to ensure safe staffing levels when the hospital opened in April 2020. In total, 38 doctors were recruited and onboarded, with an additional 100 applications received. It was a true reflection of what can be achieved when the NHS all workstogether, and the pride that comes from working within such a strong national service. When the NHS Nightingale Hospital Northwest closed its doors in May, what we've learnt on reflection is the importance to understand the needs of a field hospital and how to rapidly respond and quickly adapt in the future to changing situations.
Opening the gateway for doctors
As well as working with doctors in the UK, we all recognise the requirement for creating opportunities for doctors who have trained abroad to bring their skills back to the NHS. Especially as we approach Brexit, as the UK has a greater proportion of doctors who qualified abroad than any other European country, except Ireland and Norway.
The Gateway for Doctors programme supports doctors who have completed their medical degrees in Europe to gain the relevant, hands-on experience needed to start a career in the NHS. Junior doctor training can be completed at several Gateway partner Trusts across the UK. It's these types of initiatives that ensure the NHS has access to a continuous pipeline of skilled and qualified doctors.
Training and work in one
Nothing beats experience and training on the job, especially for junior doctors. There's now the opportunity for Foundation Year 2 doctors to work additional shifts and gain extra experience in areas they're particularly interested in with the Rotation Initiative, run during February and August Of course, this is all to fit around study schedules and other rotations but it's a valuable opportunity that progresses the careers of junior doctors and helps support the NHS with additional resource.
Sharing the learning
One thing has become clear during Covid-19. That's the desire that doctors have to keep learning and sharing best practice. Our Lockdown lectures and Doctors Direct webinars have featured an array of eminent speakers from Dr JD Polk, the Medical Director of NASA to Professor Megan Reitz talking on the subject of Speaking Truth to Power.
As the second wave of Coronavirus hits and the days get colder, the NHS will be even further stretched. Now is the time that we need to work together to ensure that our flexible workforce keeps the NHS agile and fit for the future.