Rethink Donation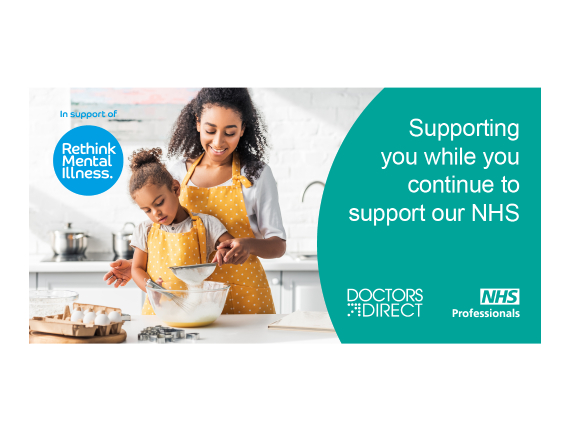 Thousands of NHS Professionals shifts power donation to Rethink Mental Illness
NHS Professionals are continuing their partnership with Rethink Mental Illness by making a donation to mark the number of shifts worked on World Mental Health Day (10th October).
Mental health problems are some of the most pressing concerns facing adults and young people throughout England. Research suggests that before the pandemic, around 1 in 10 adults experienced some form of depression. This has now increased to approximately 1 in 6 adults in less than a year, and the trend is mirrored in young people.
Mental health nursing is also under pressure, with recent national reports suggesting a long-term decline in the number of mental health nurses available. This means that organisations such as Rethink Mental Illness are more important than ever.
NHS Professionals pledged to donate £1 for every shift worked by Bank Members on World Mental Health Day, and are delighted to have raised £6,365 for the charity.
The money raised will be used to support the important work the charity does to deliver a diverse range of support for people living with mental illness and their loved ones. Through a network of local groups and services, expert information and successful campaigning, the charity supports anyone severely affected by mental illness to live independently and have a good quality of life.
NHS Professionals' Chief Nurse, Juliette Cosgrove, said:
"The last year has been so difficult for so many people, and many more are seeking mental health support than ever before.
"I am very pleased that we are continuing our partnership with Rethink Mental Illness who are helping to support thousands of people across the country."
Mark Winstanley, Chief Executive of Rethink Mental Illness said:
"We are delighted to have the continued support of NHS Professionals once again this year. By pledging to raise money from the shifts worked by their Bank Members during World Mental Health Day, the funds will help us to support people severely affected by mental illness while also raising vital awareness of the importance of mental health. Thank you so much to everyone involved."
NHS Professionals are continuing to recruit Mental Health nurses throughout England. To find out more about the available roles, please follow this link to join our bank: https://www.nhsprofessionals.nhs.uk/joining-nhsp
ENDS
NOTES TO EDITORS:
Interviews are available. Please contact PressOffice@NHSProfessionals.nhs.uk to arrange.
About Rethink Mental Illness
No matter how bad things are, we can help people severely affected by mental illness to improve their lives. We're Rethink Mental Illness, a leading charity provider of mental health services in England.
We support tens of thousands of people through our groups, services and advice and information.
We train employees, employers and members of the public on how best to support someone affected by mental illness.
We campaign for the rights of people living with mental illness and their carers.
Working alongside the people we support, we are saving lives.
Help us raise funds to support us to reach those most in need: rethink.org/get-involved/ways-to-give
Find out more at www.rethink.org
About NHS Professionals:
Established in 2001 as a special Health Authority (SpHA) and then as a limited company in 2010, NHS Professionals puts people in places to care within NHS Trusts and the wider healthcare system in England.
As a critical workforce partner to the NHS, NHS Professionals has over 180,000 registered flexible workers ('Bank Members') as of April 2021 – making it the largest provider of flexible workers to the NHS
NHS Professionals Bank Members include clinical and non-clinical staff at all grades, working in multiple specialisms from the ward floor to senior leadership levels and helping to grow opportunities to work in the NHS. Locum doctors are represented by the specialist Doctors Direct service. Volume international recruitment is delivered through a dedicated team within NHS Professionals, known as NHS Professionals International
The NHS Professionals service approaches staffing with the whole NHS in mind, helping NHS Trusts to address agency costs, maintaining staffing levels and patient care by putting fully qualified and compliant staff in places to care
Wholly owned by the Department of Health and Social Care, any operating surplus made by NHS Professionals is re-invested into the wider healthcare economy.
The research sources referred to in this story are as follows: