Maintaining resilience during a pandemic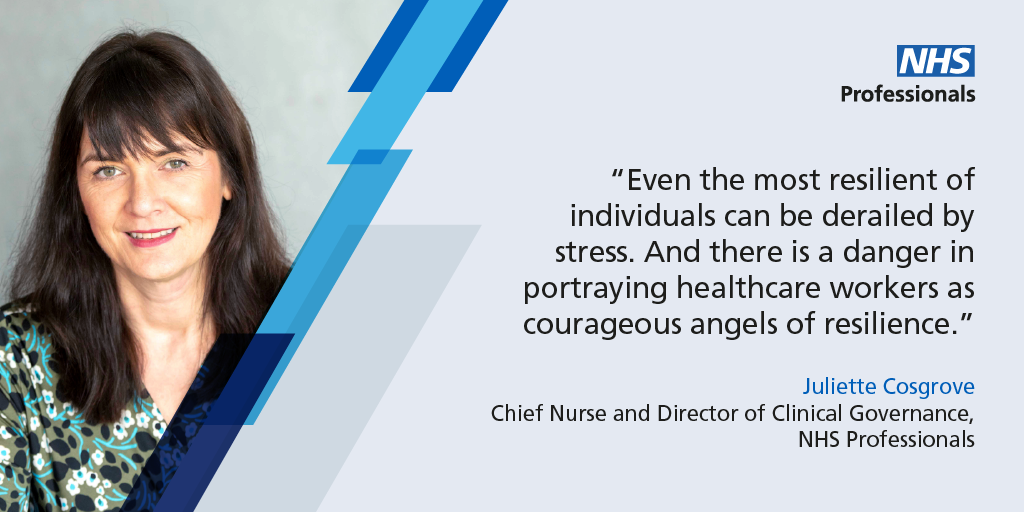 Juliette Cosgrove, Chief Nurse & Director of Clinical Governance
In early 2020, the pandemic was expected to be a sprint for the NHS. Hard work and extremely challenging yes, but likely to last for weeks or at worst months. But now it's dominated this year and is predicted to extend well into 2021 and even beyond.
After putting all of our efforts into that initial exhausting sprint, how can we last the distance?
The word resilience is often used. The real question is how we can maintain our personal resilience, when we are needed to deliver the agility, motivation, innovation and high-quality patient care that the NHS requires.
What is resilience?
Nurses and healthcare professionals are well-known for their resilience and also perhaps fairly familiar with the definition of resilience, from a psychological perspective:
Resilience is a person's ability to cope with, adjust to and recover from adversity, while at the same time learning and growing from the experience. It's the quality that appears to allow some people to survive and bounce back from life's challenges stronger than before.
What is interesting is that resilience is not a constant. Some of us do appear to have inbuilt natural resilience. However, many people can find things hard at times. The good news is that it's very possible to build our own resilience.
Different tactics will work for different people, but there are techniques that we can all utilise to increase our capacity to cope with stress. Ensuring you can take a break or time away from your duties, or talking to a friend or colleague about a problem, can make all the difference. Especially during a stressful situation.
How can you build your own resilience?
Conflict at work is something that tests everyone's resilience. Some people find confrontation difficult. However, standing up for yourself, although sometimes a challenge, will build self-confidence. If this is particularly uncomfortable, practicing with trusted colleagues or friends is good idea. Instead of bottling things up, expressing opinions clearly and directly actually reduces stress.
Taking the time to recognise colleague's achievements is another good way to boost morale and can improve team resilience. Taking the time to say, "well done", or just saying a friendly thank you or hello can make all the difference.
What does stress feel like?
Perhaps most important is to recognise our feelings and physiological response to specific situations. Healthcare professionals will commonly recognise the signs associated with stress in others, including an increase in heart rate, perspiration or a quickness of breath. But it is important to also take the time to recognise stress in themselves . Noticing these triggers where possible, whether it's a particular situation or person, can prevent these situations from occurring again.
Of course, not all situations can be avoided. That's when finding things to help us relax is important. It might be going for a walk when on break, taking a moment for quiet relaxation or spending time with other people outside of work.
On a personal level, whilst I spent 3 months setting up and running a Nightingale Hospital, what I have found most stressful is working from home. I have had to totally change how I structure my day and I felt quite flat at the beginning of this second lockdown. I shared this with a friend and we have built regular exercise sessions into our days which has really helped, even in the rain!
Stress in the NHS
Of course, stress isn't a new phenomenon. Even before the pandemic, the annual cost of stress-related absenteeism in the NHS was approximately £425 million a year. In Europe, work-related depression was estimated to result in around €242 billion in lost productivity annually.
More recent research, carried out earlier this year, surveyed front line health and social care workers. It showed nearly 60% met the criteria for either anxiety, depression or PTSD.
Some level of stress has always been associated with the physical and emotional demands of being a healthcare worker. Covid-19 has certainly added to this. The need to wear PPE, take on potentially new and unfamiliar duties, and care for patients and families who aren't allowed to see each other when contact is most needed, can have a negative impact on an individual's mental health and wellbeing.
Workforce capacity
Even the most resilient of individuals can be derailed by stress. And there is a danger in portraying healthcare workers as courageous angels of resilience. This narrative might be comforting for the rest of the population, but it can be a heavy burden to bear. We're not just talking about surviving here. It's about helping healthcare professionals thrive in work and life as a whole.
As Chief Nurse at NHS Professionals, I'm working closely with NHS Trusts, alongside the NHSP team, looking at ways to increase workforce capacity so that there are more people available at critical times. We're looking at how we can use the skills, experience and knowledge of all Bank Members in the right places to further build resilience across the NHS.
Supporting resilience
We also know that other important factors influence resilience, mental health and wellbeing. These include feeling valued, being supported and working as part of a team. Having "brilliant basics" in place e.g. a proper induction, welcome to a new Trust, routes for additional support, as well as a simple thank you for a job well done, are all important to support resilience.
In 2021, we're looking to provide more career development opportunities, so Bank Members can continue to learn new skills and progress in their career.
We know that when we're better prepared and things are better planned that people feel more confident in their abilities at work. Covid-19 has meant that we all had to react quickly.
Today, we're now in the position to assess the transformation that has already taken place and make further improvements. In this way, we can look forward to building a more resilient workforce for the future, for bank members and all those who work in the NHS.
Useful resources
For advice on managing stress and building resilience, visit the health and well-being section of our website: www.nhsprofessionals.nhs.uk/Health-and-Wellbeing.
Our NHS People have introduced a confidential staff support line, operated by the Samaritans and free to access. Call 0300 131 7000 or text FRONTLINE to 85258 for support 24/7 via text.
The Mind website also has a wealth of resources, including Coronavirus specific advice: www.mind.org.uk.
NHS Data 2009 & European HSE 2013.
COVID-19 Trauma Response Working Group, 27 May - 23 July 2020.