October Bank Members of the Month

Our newly refreshed Bank Member of the Month Award has not only been given an updated look, but the award has also now been extended to all our different staff groups.
We want to celebrate and reward our hard working and dedicated bank members across the following areas:
Admin & Clerical

Allied Health Professionals

Healthcare Scientists

Nursing & Midwifery

Support Services.
Each month, we award four of our fantastic bank members, who have been recognised for their excellent performance and received a logged/recorded compliment(s) via our Feedback Form, either from their ward/line manager, their colleagues or patients within their trust.
Winners of this award are be presented with their own certificate, thank you card and brand-new tablet device. Thank you too all our dedicated bank members for their outstanding commitment and dedication shown in supporting their local NHS Trust and making a real difference to patients' lives every day.
The Bank Members of the Month.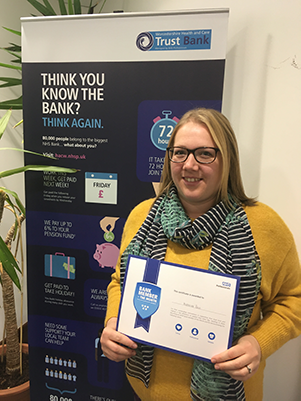 What do you love most about your job?
Helping others in a clinical setting
How would your colleagues describe you?
Good rapport with patients, hardworking and friendly!
Whats the most challenging part of your role?
Organising Childcare!
What inspired you to join the NHS?
Change of career
Whats the best thing about working for NHSP?
Flexibility
Where you like to take a holiday / travel to?
Australia
If you were writing an autobiography about your life, what would it be called?
This is my life!
What's your favourite snack to have on a shift?
Noodles!
If you could give your childhood-self any advice, what would it be?
Work harder at school