What does flexibility mean to you?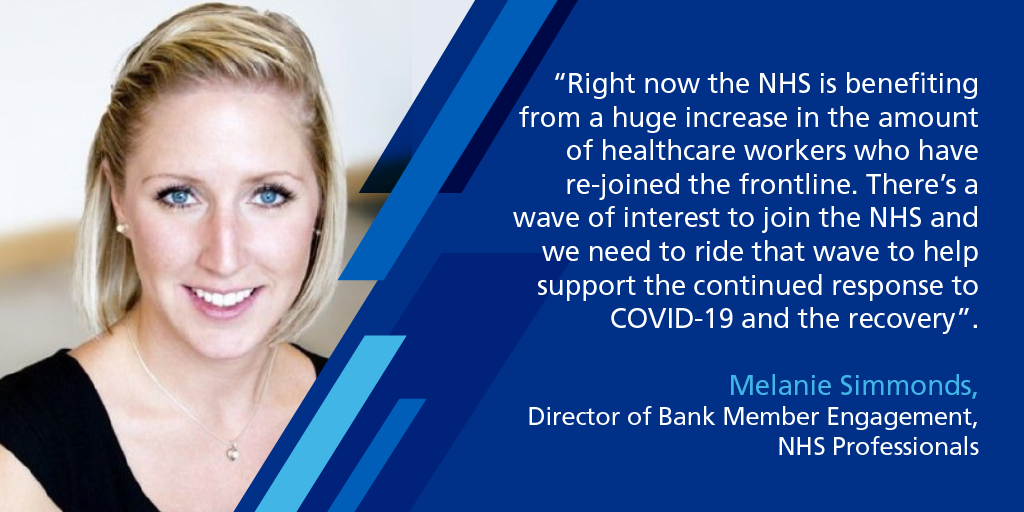 Author: Melanie Simmonds, Director of Bank Member Engagement, NHS Professionals
"To become a modern and model employer, we must build on the flexible working changes that are emerging through Covid-19. If we do not take radical action to become a flexible and modern employer in line with other sectors, we will continue to lose people entirely or see participation rates decline." NHS People Plan, 2020
I am in complete agreement with these words, taken directly from the NHS People Plan 2020. With the vaccine now being rolled out and the falling R rate, there is light at the end of tunnel – and a lot of this is testament to the flexible workers and volunteers who stepped up to deliver the vaccine programme so far. The consequences of failing to maintain and build a flexible workforce are serious.
Let's not pretend that the recovery is going to be easy. We don't yet know the impact of COVID-19, especially when it comes to the public utilising the NHS on a regular basis once again. The availability of a flexible workforce will be vital to deal with this. The NHS went into the pandemic with 40,000 substantive nursing vacancies. In a time of continuing uncertainty, the contribution of Bank Members remains invaluable to NHS Trusts.
And to maximise our flexible workforce, we must understand that flexibility doesn't mean the same thing to every individual.
Understanding Bank Member needs
We know that if we understand and deliver on the priorities of different groups, we will be able to recruit and retain more people. So, in late 2019, we conducted research aimed specifically at understanding Bank Member needs, motivations and aspirations. This research showed us that our flexible workforce have a broad variety of needs, which we and the wider NHS must address, to help support them in their aim to work flexibly.
For example, 85% of mid-career nurses said they want to work hours that suit family and lifestyle requirements. This is especially important to help organise work around everyday life. Whether that's to fit around child care, caring for older family members or reducing hours in the lead up to retirement, all these factors must be taken into account.
In another example, 45% of nurses later in their career journey, said that they want flexibility for more professional variety and the opportunity to gain new experience and skills, along with different shift patterns (81%) and more locations (76%).
Just like everyone working in the NHS, Bank Members care about the health service, its mission and its values. As well as improving the lives of patients and supporting colleagues.
Meeting flexible needs
We know that it can sometimes be difficult to find shifts that match specific needs. We are working closely with Trusts to ensure we identify the skills needed on a shift to help improve the Bank Member experience.
This means that early career and student nurses, for example, will be able to access shifts and locations that suit their skills and development needs in a more streamlined way going forward. This also means that established healthcare professionals will be given new opportunities to work shifts where they can learn new skills and develop their career.
We also understand that there are other demands on a Bank Member's time. Work that is more flexible could make an enormous difference to the number of shifts that a Bank Member is able to undertake. Initiatives we are working on with NHS Trusts include shifts in school hours for our members, and a flex pool where people can split or share shifts to fill gaps. And for those who want them, we are offering more longer term placements that allow members to fully utilise skills and provide increased security, along with flexibility.
Our research told us that time, location and familiarity of the ward and hospital that Bank Members work at are also important, particularly if for those are at the beginning or towards the end of their career. So we are working with Trusts to improve basic information given about a ward before a shift – such as whether a break is included.
Feeling valued
Equally, feeling welcome and valued is important for everyone and we shouldn't ignore the basics. We are working with Trusts to ensure there is always a named person to greet Bank Members and answer questions when they arrive on a ward. In addition, our Going the Extra Mile (G.E.M.) Awards recognise Bank Members who go above and beyond in their roles.
Training is also important and our research highlights the different training requirements of our Bank Members. Understandably, this is often related to where individuals are in their career. For many, additional training beyond the standard mandatory requirement would be well received. As NHSP's lead for Bank Member Engagement, I am passionate about the need to provide more personalised opportunities that address the varying needs of all our members. For example, the recent introduction of our COVID Safe Seminars, and developing specialist flexible worker roles that help our members learn new skills and grow professionally.
Simplifying processes
We understand that registering, finding the right shifts and the right hospital location can be a long process. And this has a huge impact on the accessibility and attractiveness of flexible working. Our aim is to make accessing Banks shifts as efficient and straightforward as possible, while always keeping safety at the forefront.
We were able to fast track registration in response to COVID-19 and we are applying the lessons we learned to ensure this process remains as streamlined as possible. This includes investing in technology to improve processes, as well as investment in improvements to our app so that Bank Members can find the shifts that suit them and Trusts can quickly add available shifts to the system.
More flexible workers
Right now the NHS is benefiting from a huge increase in the amount of healthcare workers who have re-joined the frontline. There's a wave of interest to join the NHS and we need to ride that wave to help support the continued response to COVID-19 and the recovery.
Clinical and non-clinical staff from Nurses to Care Support Workers are needed and we want to attract more people to join us, and encourage those who have stepped forward to stay. But it is only through ensuring that a career as Bank Member in the NHS remains flexible and attractive, that we will be able to achieve this.