April 2021 - NHSP Online System Update – Adding Assignment Codes
In April 2021, NHS Professionals updated their NHSP:Online portal.
From the above date, all users who have access to the NHSP:Online portal can now add assignment codes to candidate profiles.
How to Add an Assignment Code
You will need to access the NHSP:Online portal
Using your Agency User account – log into the portal
From the main menu, go to "Edit Agency Worker"
Using the filter access the candidate profile
From the list of assignment codes, select the correct code
Click on "Update Worker"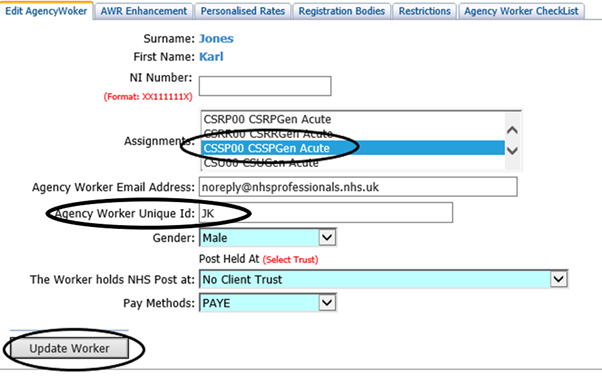 Please Note
If asked for a Unique ID, please update this field. This is a free text field and can be used for any information your agency requires.
If the assignment code requires a Registration Body, PIN number, or these details require updating, this must be completed before any codes can be added.

If you require further assistance or support, please contact the NHSP Agency Support Team.