The importance of resilience in the NHS right now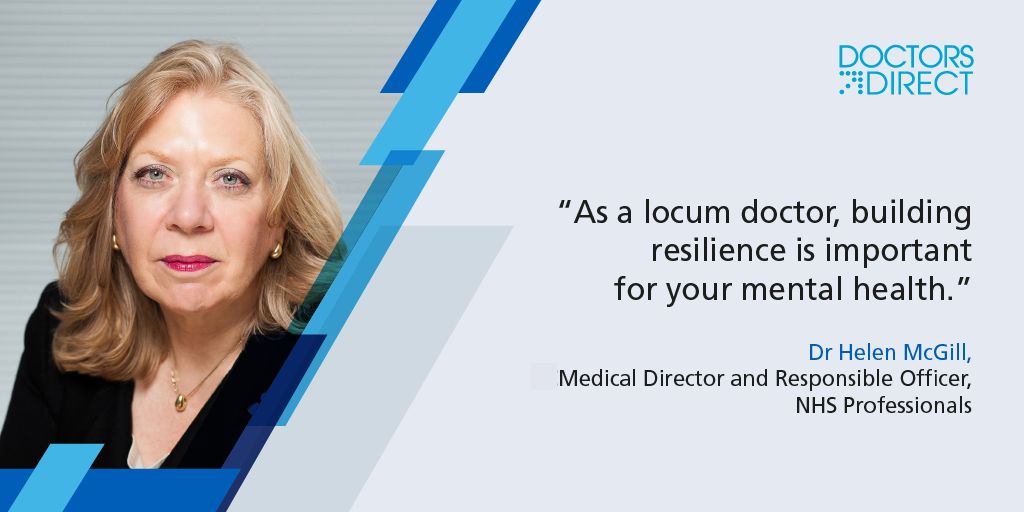 Helen McGill, Medical Director
Resilience is needed in the NHS now more than ever – at an individual, organisational and systemic level. We all need to work together to prepare for, respond to and adapt to both ongoing change and major unexpected disruptions. This is not just about surviving, it's about minimising crises and identifying improvements, both personally and professionally.
During 2020, and in the midst of a global pandemic, NHS Trusts have undergone enormous change, much of which should be lauded as a huge achievement, especially given the circumstances. A new report from NHS Providers supports this, stating that:
"The speed at which workforce innovations and flexibilities have been implemented in the NHS since the outbreak of Covid-19 has been both impressive and encouraging".[i]
Now in the midst of the second wave of Covid-19, resilience is key to maintaining these improvements and innovations, as well as delivering the further transformation needed to ensure that we are able to meet the challenges ahead.
Building individual resilience
A particularly important aspect of change is how individuals cope with stress, respond to adversity and recover from setbacks. As a locum doctor, building resilience is important for your mental health. We know that individuals respond differently to each situation, but there are things that we can all do to increase our capacity to cope with stress.
In his book, Emotional Intelligence at Work, psychologist Dr Jo Maddocks outlines the capabilities of resilient people. These include:
The ability to manage feelings and behaviour in times of stress, rather than exaggerating problems.
Viewing any mistakes as learning opportunities, rather than becoming despondent or taking things to heart.
Being flexible and trying different strategies.
All of these can help cope with adversity and improve resilience. Equally, it's worthwhile to be surrounded with trusted colleagues or friends for extra support. Reflective learning can also help when looking back on an experience and coping with similar challenges in the future.
Maintaining organisational resilience
Of course, achieving resilience isn't just a challenge for doctors in the health service. Research conducted by Cranfield School of Management revealed that just under one third (29%) of business leaders trust that their organisations have fully embedded resilience practices. This is despite 88% believing that resilience is a priority for their organisations, and indispensable for long-term growth (80%).[ii]
It is not surprising that further studies show that NHS Trust leaders are concerned about the resilience and well-being of their staff. But the fact that 99% are either extremely or moderately concerned about the current level of burnout across their workforce is a cause for both alarm and action.[iii]
Stress is often associated with the physical and emotional demands of being a doctor. However, it's not reasonable to expect doctors to cope with extreme or ongoing stress. Recent improvements at NHS Trusts we're working with include:
Increasing workforce capacity in the right places, so that there are more hands to carry the load.
Building on the initial Covid-19 recruitment drive to encourage more doctors to join and remain a part of the flexible workforce.
Improving processes so that the right doctors are in the right roles.
The NHS is also benefiting from UK doctors who trained in Europe, returning back to the UK. At Doctors Direct, we onboarded these doctors through our Gateway programme and our first cohort returned to join the NHS in January 2020 and are now supporting the Covid-19 effort.
Supporting resilience
Other important factors influence resilience, mental health and well-being. These include feeling valued, being supported and working as part of a team. However, many locum doctors, who often don't feel like a "full part of the team", can struggle with accessing the right resources that will help support them in their careers.
This can be especially challenging for a doctor who is focussed on improving in their given specialty and wants to gain as much exposure to new practices and procedures as possible. This can often come at the expense of physical and mental health and wellbeing.
From my perspective, I have seen doctors being able to access new and important resources to help build their knowledge and resilience in a flexible way. For example, the Lockdown Lectures that we held this year have given our locums a convenient way to engage with relevant subject topics and feel part of a community. The lectures were there to help build personal resilience and access to peer to peer support and learning. High profile speakers from NASA, the GMC, NICE and more have kindly given their time providing great learning opportunities and the ability to earn CPD points.
Resilience through people
A lot of the changes brought about by Covid-19 have happened quickly. As a leader of the UK's Ventilator Challenge team put it:
"We had to deliver 2.5 year's work in 6 weeks."
And while ventilators, beds and equipment are vital, the NHS also needs people. We are now in a position where we need to look back at the incredible transformation that has already taken place. But we also need to look forward to make improvements that build a more resilient NHS workforce for the future.
Useful resources
For advice on managing stress and building resilience, visit the health and well-being section of our website: www.nhsprofessionals.nhs.uk/Health-and-Wellbeing.
Our NHS People have introduced a confidential staff support line, operated by the Samaritans and free to access. Call 0300 131 7000 or text FRONTLINE to 85258 for support 24/7 via text.
The Mind website also has a wealth of resources, including Coronavirus specific advice: www.mind.org.uk.
[i] Workforce flexibility and the NHS: Utilising Covid innovations, NHS Providers, 2020.
[ii] Organizational Resilience, BSI and Cranfield School of Management, 2007.
[iii] Workforce flexibility and the NHS: Utilising Covid innovations, NHS Providers, 2020.