NHS Professionals and Doctors Direct healthcare professionals donate £25,245 to Rethink Mental Illness as part of new initiative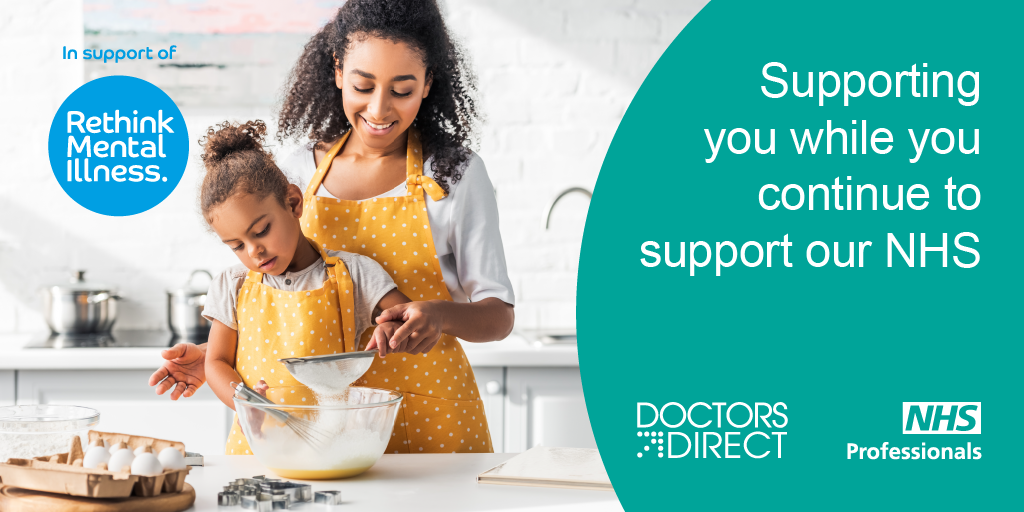 NHS Professionals and Doctors Direct healthcare professionals donate £25,245 to Rethink Mental Illness as part of new initiative
NHS Professionals (NHSP) and Doctors Direct (part of NHS Professionals) have recently partnered with the charity, Rethink Mental Illness, to help highlight the importance of positive mental health, as well as signposting access to expert advice, support, and resources for their 160,000+ healthcare professionals.
As part of this joint initiative, on the 27th January and the 14th February 2021, NHS Professionals and Doctors Direct pledged to donate £1 to Rethink Mental Illness for every shift worked by bank members on those days and are proud to have raised a total of £25,245.
The funds will be used to support the important work the charity does to deliver a diverse range of support for people living with mental illness and their loved ones. Through a network of local groups and services, expert information and successful campaigning, the charity supports anyone affected by severe mental illness to live independently and have a good quality of life. The donation will also be used to support their dedicated advice and information service.
Speaking about the partnership, CEO of NHS Professionals and Doctors Direct, Nicola McQueen, said:
'Mental health has always been important, but the last year has brought this into focus sharply. At NHS Professionals and Doctors Direct, we recognise the challenges around providing effective resources around mental health and wellbeing in the NHS and this new partnership with Rethink Mental Illness will ensure that help is always available for all those that need it."
Launched in 1972, Rethink Mental Illness is one of the largest charitable providers of support for people living with mental illness. Providing over 200 services and 140 support groups across the country, it works to transform lives.
Rethink Mental Illness CEO Mark Winstanley commented:
"We are extremely grateful for the support of all of the Bank Members from NHS Professionals and Doctors Direct for this fantastic donation. The money raised from the shifts they worked across these two days will help us to support people severely affected by mental illness and we are delighted to be working in partnership with NHSP in 2021."
ENDS
More information
NHSP and Doctors Direct, part of NHS Professionals, are owned by the Department of Health and Social Care and are the leading providers of flexible workforce solutions to the NHS. On top of NHSP's own health and wellbeing hub, members will be encouraged to utilise Rethink Mental Illness' wide range of resources and services which include telephone advice lines, local network groups, online content, and more.
For more information about Rethink Mental Illness, please visit their website here.