Offering locum doctors a sense of belonging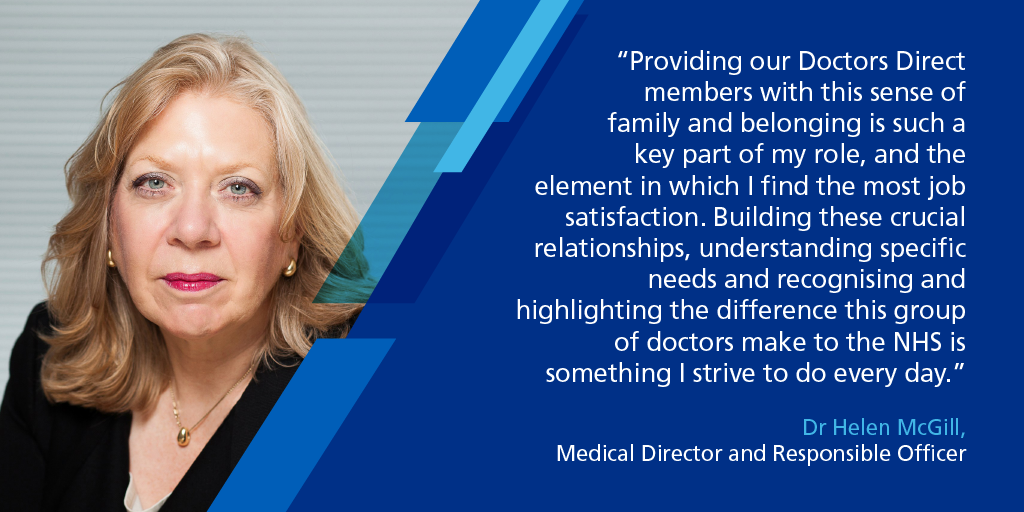 Author: Dr Helen McGill, Medical Director and Responsible Officer
As part of our series of Lockdown Lectures, the brilliant Vimoshan Arumham hosted a webinar titled "The Lost Tribe" for us. Vimo spoke about his experience as a Clinical Tutor for Locally Employed Doctors (LEDs) at West Hertfordshire Hospitals NHS Trust and the threat that this important, but often overlooked, group could become a lost tribe within the NHS workforce. The webinar led me to consider some of the possible parallels with our locum doctors here at Doctors Direct.
Much like LEDs, our locums are a crucial part of the NHS. Ensuring you are supported, developed and retained is to the benefit of the whole system and everyone involved. And much like LEDs, or Trust doctors as they used to be called, there's even confusion about what to call you. Often referred to as locum doctors, I prefer to call you, well... just doctors – there should be no distinction!
Locum doctors a key part to play
One concern is that, due to the transient nature of your work, your contribution is sometimes overlooked. Whether you are a recent medical graduate aiming to build your CV, an experienced clinician seeking extra shifts, or a doctor nearing retirement and looking to work flexibly, here at Doctors Direct we recognise your dedication and commitment to patient care. We work closely with all our candidates to build the best career path possible.
What we do know is that when any group in the NHS is treated differently to others, there is a risk. Both to the individual and, ultimately, to patient care and service quality. What's more, when clinicians don't receive the support, recognition and development opportunities they need, resilience is gradually eroded and they can feel marginalised. This can result in burnout and good doctors leaving the health service.
Get what you need
The NHS People Plan sets out the need to "foster a culture of inclusion and belonging", going on to state that: "it has never been more urgent for our leaders to take action and create an organisational culture where everyone feels they belong".
However, we also know that many of you sometimes feel as if you are part of an isolated group, just by the nature of being a flexible worker. An important means of addressing this is access to Continuing Professional Development (CPD) opportunities and giving you the same opportunities as your full time equivalents.
Professional development opportunities
For example, our Doctors Direct webinars work in addition to ongoing Study Days. Supporting you with CPD points and learning in areas such as managing conflict, consent and cognitive bias. However, with in-person training almost impossible just now, the webinars provide an opportunity to gain new knowledge and insights.
In addition, I've been working with the GMC to make learning and development processes easier through the pandemic. We're also working with a Medical Advisory Group of senior doctors and consultants to identify areas where our doctors might need additional support.
Services and support
We are currently in the process of extending our services so that we're able to support our doctor's career goals – whether you are looking for ad hoc shifts, a fixed term contract or a permanent position.
We are building our team of experienced recruitment consultants, across acute and mental health services, to deliver this support. With consultants on hand to provide support across sub-specialisms including children, adolescents, substance abuse, CAMS and elderly care, as well as medicine, oncology and radiology.
A sense of belonging
My colleague Dr Helena McKeown, Chair of the BMA Representative Body, put it well in a recent article for National Health Executive magazine when she said:
"If the past year has taught us anything...it is that we can and need to continue to do more to build equality into the very fabric of the BMA and the NHS. Because it is only if healthcare professions work together and act as each other's allies, that we will see the very real changes needed to create a positive and fair culture that must be at the heart of our professions."
Providing our Doctors Direct members with this sense of family and belonging is such a key part of my role, and the element in which I find the most job satisfaction. Building these crucial relationships, understanding specific needs and recognising and highlighting the difference this group of doctors make to the NHS is something I strive to do every day.
Useful Resources