Here comes Wonder Woman!
Erna has truly touched the hearts of all those who have had the privilege of working with her over the years, and we're proud to call her a member of our team!
She is one of NHSP's longest serving members, after deciding just 4 weeks after retiring at the age of 60 to become a bank member, and continue her career within the NHS. 17 years later and she is still going above and beyond in her role to deliver the highest possible patient care.
Name: Erna
Trust Name: Sheffield Teaching Hospitals NHS FoundationTrust
Staff Group: Support Services
Years working for NHS: 10-20
Years working for NHS Professionals: 10-20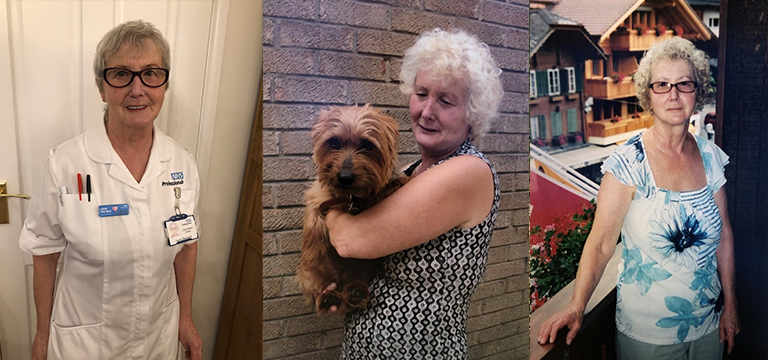 Erna wrote to us to share her experiences of working in the NHS, and we're sure you'll all agree that her tireless work and dedication to her role is truly inspiring.
"My name is Erna Staniland but my friends call me Ingrid and I am 79 years old.
I started working for the National Health Service, as a nursing auxiliary in 1965 at the age of 25. I began working at the Royal Hospital when it was still on West Street in Sheffield, it closed a few years later. I then went on to work on a stroke ward at the Netheredge Hospital, it was very hard work in those days, we didn't have the hoists and manually had to lift patients up and down the bed.
When Netheredge closed I worked at Rotherham District General Hospital. I stayed there until I retired at the age of 60. After just 4 weeks, I knew retirement wasn't for me, and I joined NHS Professionals as a clinical support worker. I really love my job as a CSW, I usually work a late shift for NHSP, but more often than not I arrive on the wards at 12 noon so I can assist in feeding patients. The wards always smile when I walk on the ward knowing I am there to help, and the nurse in charge will shout "wonder woman is here"!
I enjoy my work very much and I always look forward to going to work, I only wish I can keep going for many years to come. It will be a very sad day when the time comes for me to hand in my uniforms and ID, and finally take up full retirement. I hope the wards will miss me as much as I will miss them.I can truly say that the National Health Service is simply the best, including NHS Professionals doing their best and always trying to improve things for their employees. I now have worked for NHSP for 17 years and I can truly recommend it. Well Done
E Staniland"
We had to get in touch with Erna to ask her some more questions!
Why do you love working for the NHS? I like helping people I've got so much love and care to give, and make their stay in hospital as comfortable as possible.
How does flexible working make a difference to your life? I can choose which ward and days I work on, that suit me.
What has been your proudest moment working for the NHS? I like to help patients overcome their anxiety and stress by conversing and assisting them.
Tell us about yourself. Did you always want to work in healthcare? I was brought up in an Austrian Children's Home, came from a job in Switzerland at the age of 20 to work for the NHS. I am now 79 and still enjoy working for the NHS through the NHS Professionals.
Do you have any hobbies or interests outside of work? I'm a volunteer at Rotherham General Hospital, I like knitting, walking and visiting an old lady.
You can take 3 items with you when stranded on a desert island, what do you take?
Item #1 My Husband
Item #2 My knitting
Item #3 My photo-album of my family