Gold Award for Team Manager of the Year

I am delighted to announce that Carol Bryan was the worthy winner of the GOLD Award for 'Team Manager of the Year – Service ' at the prestigious Contact Centre Management Association Awards (CCMA) at the London Brewery on Tuesday 14th May.
Earlier in the night Dounia Gseir was shortlisted as a finalist in the 'Quality Manager of the Year' category. Dounia was down to the last nine in her category from across the UK – a fantastic achievement, well done!
The CCMA are the longest established awards for the UK contact centre industry which are now in their 24th year. It is one of the best attended highlights of the industry calendar and recognises individuals and teams that work in the industry-leading contact centres and strive for customer service excellence.
Our GOLD Award Winner Carol has been at NHSP for 3 years as a Team Manager for the South West home-based working team. More recently, she has managed the Croydon home and trust-based model.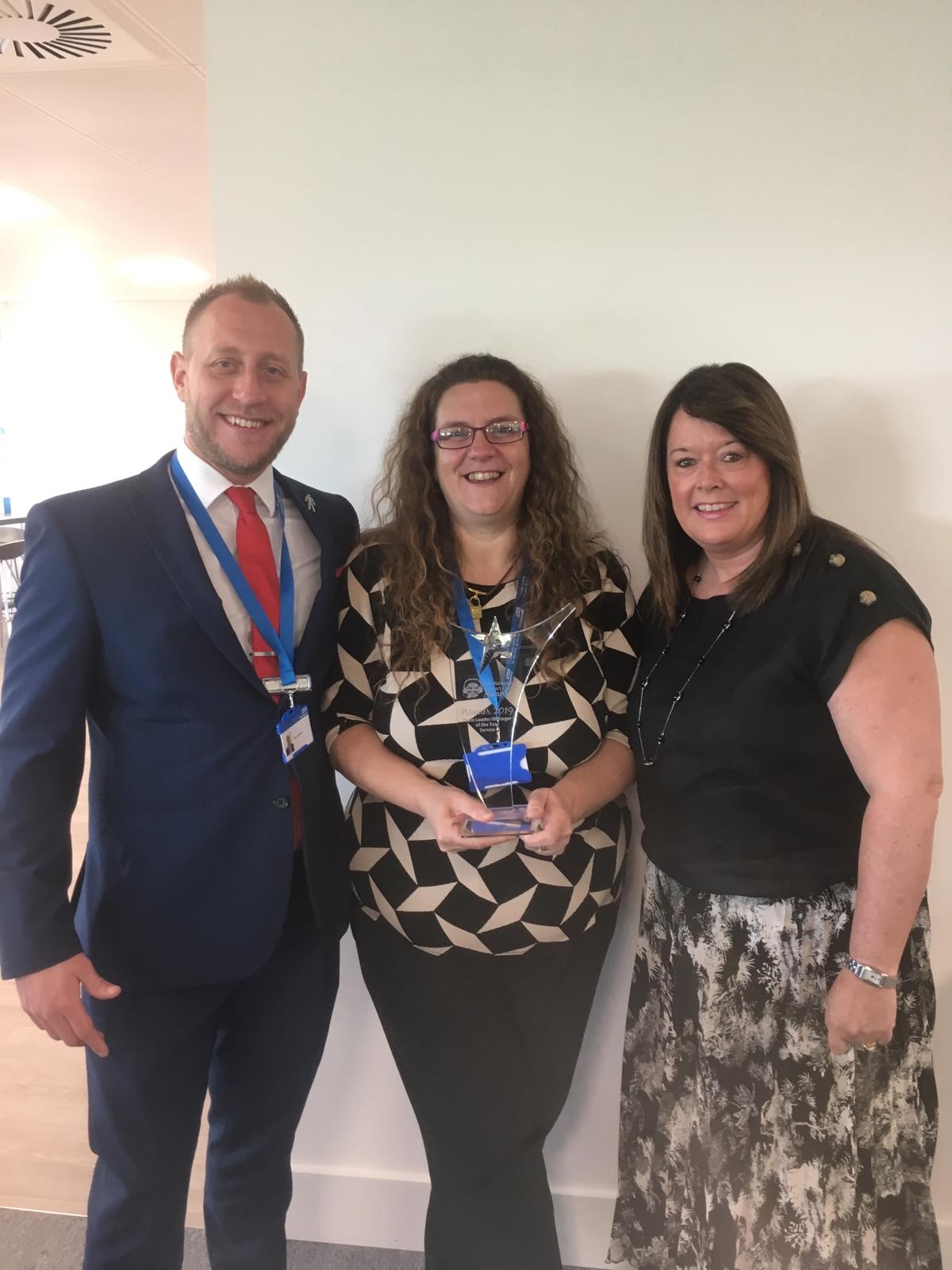 From left to right: Scott Mitchell (Regional Service Manager), Award Winner Carol Bryan (Home-Based Team Manager), and Catherine Holmes (Head of National Service Centre)
Carol had this to say, following her win:
"I am so incredibly proud to receive the award for Team Leader/ Manager of the year for Service. This is a real high in my career and one that I am incredibly grateful and thankful for, in a company where I feel supported by my team, managers and all my NHSP colleagues. I was extremely touched by the number of colleagues who sent me well wishes before the event, whom I do not have contact with daily. To be recognised by other individuals working in the industry is a huge achievement and one that would not have been possible without the support of NHSP. The award is for everyone who works at NHSP and it raises our profile in a wider arena and recognises how hard we all work. There are many categories where I know we have potential winners within NHSP and so I look forward to seeing my colleagues in the CCMA Hall of Fame next year!"
Catherine Holmes, Head of National Service Centre commented on how proud she was of Carol and said it was a very well deserved win for her, but the win extends further across all the National Service Centre teams & represents all the hard work and commitment from all these teams in delivering service excellence.
I would like to personally offer my congratulations to both Carol and Dounia for their achievements, which highlights the fantastic work the Service Centre delivers every day, supporting our mission to deliver a world-class customer experience. As we move forward with our new service delivery model, this is a great example of what we can achieve together, when we put our customers first. Well done to Carol and Dounia!