Pool Ward
From Monday 17th September, Oxford University Hospitals and NHS professionals will be introducing the new 'Flexible Staff Pool' for Bank workers. This is a brand-new initiative to help tackle unfilled shift pressures by linking bank members with last-minute shifts, that offer several attractive incentives.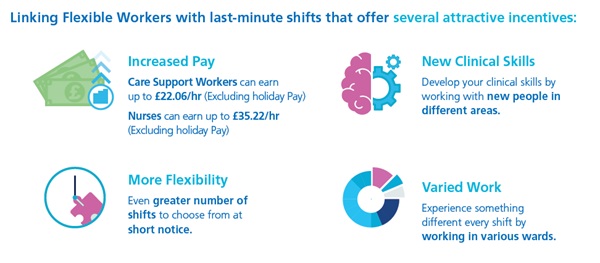 Already registered with NHS Professionals?

If you would like to register your interest in the Flexible Staff Pool, please fill out our quick form »
Terms and Conditions Flexible Staff Pool
By booking a Flexible Staff Pool shift, you are agreeing to the following terms and conditions:
To work in any inpatient area on the Headington sites when booking into the John Radcliffe Flexible Nursing Ward

or

at the Horton Hospital when booking into the Horton Flexible nursing ward.

To be registered to the NHS Professionals Bank before working Flexible Staff Pool shifts.

That you are confident and competent to work in any medical or surgical ward.

That you cannot specify or decline to work in individual ward areas.

That you will be notified of the ward where you will be working at short notice, up to one hour before the start of the shift.

That you must not cancel the shift after the ward location has been assigned.

That you are aware of the zero-tolerance policy – one refusal or late cancellation will result in the removal of the code from your NHSP profile, permanently.

To be contacted by NHSP/OUH for feedback on your experience of working pool shifts, during the pilot phase and thereafter.
The increased rate of pay is only available when bank members have chosen to book a Flexible Staff Pool shift. It will not be applied if a worker books a ward shift and is subsequently redeployed for operational reasons.
Please see pay rate below:
Staff Group

Day

Night / Sat

Sun/ Hol

Registered Nurse

(RNF00)

£28.62

£28.62

£28.62

Care Support Worker

(CSWF00)

£17.52

£17.52

£17.52
If you have specific shift requirements outside of standard shift times, please get in touch and we may be able to accommodate this: tempstaff.queries@ouh.nhs.uk