Nicola McQueen, CEO, on Black Lives Matter "What I am doing as a CEO Is Not Enough"
I've taken more time than I usually would to enter the conversation on #BLM. And it's not because I am scared or afraid or trying to avoid it. Rather it's been the opposite. I have been doing my homework, reading, educating myself upon the shocking self-realisation that what I've been doing as a CEO is, quite frankly, not enough.
I have watched and been inspired as fellow leaders, business owners and brands come forward to announce their own plans to prevent racism in their own corporate eco-systems. And, like many other CEOs, I have addressed my 500+ staff members with a promise to review our own policies and figure out what tangible actions we can take as a business to show our solidarity and how we can be better.
I think, like many others, I have been rolling along in my life at home and at work believing that being anti-racist myself and by having a standard policy in place at work that I had it covered. Newsflash, actually no. That's not the case. I can, should and want to do more. So what do I do? How do I guarantee it's not lip service, that it's going to count? I make a plan, a 5-step plan. One that has always served me well and here it is:
Educate

Understand

Plan

Act

Repeat
EDUCATE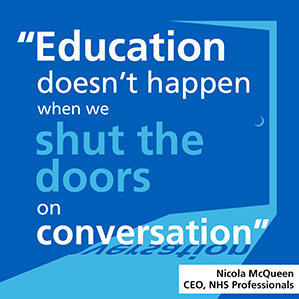 I can never know what it is to be a black person in today's society, anywhere in any situation. What I can do is listen and learn. I have two ears, one mouth for a reason. Listen first, speak later. The biggest difference here is I must be proactive in that. Seek it out, read, investigate, absorb. Educate myself and keep doing that as part of my 'new normal'. In September 2019 I kicked off a 3 month 'Discovery' phase as I took leadership of the transformation journey for NHSP. That's the phase I am in now on this, kickstarted by the surge of #BLM. Fortunately, I was already following some inspirational women like Leona Lewis and Serena Williams who have joined the conversation and so helped me get started. The rest is on me.
UNDERSTAND
What are the issues? These past few weeks have shown us all just how much there is still to do. It is overwhelming as I try to digest and makes some sense of it all. So, I am resourcing up and getting some help with that. At home I am talking to friends and family. At work we are exploring what infrastructure we need to put in place to ensure actions we take going forward are inclusive and representative of our team, plus engaging with some experts to help us all improve our understanding and comprehension. I have to reach a point of understanding that allows me to start making some plans to affect long term permanent positive change. I know I cannot do that alone and I don't want to. But I can lead, and I will.
PLAN
I am learning more; I am understanding more. Now as a responsible and effective CEO I must make a plan, a roadmap for myself and my team to follow. What are the most pressing issues, the most important? What needs immediate attention and how can we best address it? I am so fortunate to have an incredible team at NHSP. We have recently been put to the test with CV-19 and it gave us a clear and definitive purpose. We rallied and stepped up to the plate with incredible results as we supported the NHS workforce through it. This has given myself and my team confidence that we can affect positive change and quickly, when it counts. And this counts.
ACT
Okay. So I'm going to do more. Great, but what? Honestly, I don't know yet. I don't know the extent of everything I will do or will need to do. It is easy to knee-jerk react to the groundswell BLM movement in order to get runs on the board. I refuse to pay lip service to something of this magnitude by undertaking ineffective action. This is a widespread and complicated issue deeply entrenched in society. It needs planned definitive responses that will bring about permanent and positive change. I must be satisfied our plans will achieve this before I start putting them into action. Yes, there are obvious things that need attention, like our nine-year-old outdated Equal Opportunity policy that I re-read recently! But we will go through the right phases and steps to do it properly. Watch this space!
REPEAT
The last point is super critical to me. It loops around and completes the ongoing cycle that is needed here. Go back to Step 1 – Educate. Review how our planned action is performing. Look, listen and learn. Take time to understand the successes and the failures. Make a plan and take further action. Bite sized chunks, short sprints. Effective management of a big and complex issue that will ensure forward momentum. And do it again, and again and again.
Recent events have taught me that we must have a proactive approach to anything we want to see change and it starts with education. We must continue to educate ourselves and those around us. The amount I, and I'm sure many of us, have learnt over the last three weeks through #BLM has been immense. Hot off the back of #MeToo and CV-19 it's been intense time for everyone. But adversity really is bringing us together. Surely we can harness that kindness and community spirit that is flowing so strongly. Perspective is a powerful tool in any mindset change. I certainly feel very exposed, vulnerable and worried but in some ways it has allowed me to open my mindset faster. I feel able to embrace this challenge in a more determined way that I may have ever done or been able to before CV-19 – finally an upside!
Social injustice is not new. I know, we all know, issues faced by our black community will not be solved quickly. We also know that it does not stop here. Minority groups are under-represented across the board. Change is firmly afoot. It's positive, exciting, inspiring. It's all so very long overdue but I am so happy it's happening, no matter how difficult the conversation will get.
Education doesn't happen when we shut the doors on conversation. Keep listening, learning and talking. As an anti-racist CEO certainly what I have done so far is not enough. Not enough is no longer good enough. Not for me. Not for any of us. So I'm in. For life.